본문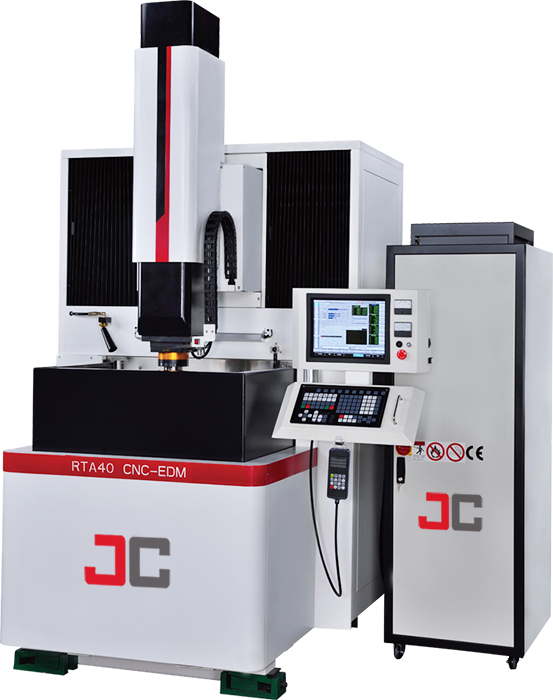 방전가공기 Model : RTA40 / RTA50 / RTA58
Precision Measured Machine Structure

The precision measured machine structure ensures the optimal structural rigidity and stability.
AC servo-motor drive leads to higher machining speed and more effcient movement

Elevating Fluid Tank

The dielectric fluid tank is a variable elevating design, that helps to upgrade mold setup speed

Integrated Structure Design

The machine base, working tank and power generator is an integrated compact design, which may save 10% of space occupation compared with other types of machine.

Windows Touch-Screen

It provides a user-friendly operational interface, making the machine easy to learn and operate.

Advanced SMC EDM Technology Machining Efficieny Increased by 2.5 Times

MAXSEE employs the latest developed SMC EDM Technology for machining with graphite electrode and hard alloy steel machining, that is able to reduce electrode wear by 30% while increasing machining efficiency by up to 2.5 times.
주요사양
| | | | |
| --- | --- | --- | --- |
| Technical Data | RTA40 | RTA50 | RTA58 |
| X/Y Travel | 400 x 300 mm | 600 x 500 mm | 800 x 500 mm |
| Z Travel | 400 mm | 400 mm | 400 mm |
| Max. Work Piece (LxWxH) | 800 x 600 x 400 mm | 1000 x 800 x 570 mm | 1100 x 900 x 570 mm |
| Max. Work Piece Weight | 800 kg | 2000 kg | 3000 kg |
| Work Table Size | 740 x 390 mm | 800 x 700 mm | 900 x 800 mm |
| X/Y Feed Rate | 1000 mm/min | 1000 mm/min | 1000 mm/min |
| X/Y/Z Axis Servo | AC servo | AC servo | AC servo |
| Machine Net Weight | 3500 kg | 4500 kg | 5000 kg |
| Machine Dimension | 2064 x 2030 x 3200 mm | 2600 x 2900 x 3500 mm | 2700 x 3000 x 3500 mm |